My name is Angela Stojanovski...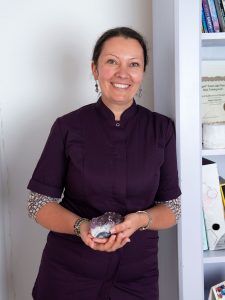 … and I am a fully insured and certified Alternative health therapist. I specialise in Energy and Crystal healing and Theragem Fusion Light Therapy. (you can follow a link to IAOTH website).
My interest in Alternative/Complementary Medicine started 15 years ago. My son was born with a dairy intolerance. The only alternative to feeding him was a milk formula, prescribed by a Dietician.
However, nothing conventional helped with his all over the body eczema, so I resorted to a Homeopath and a Chinese medicine practitioner. Both worked like a charm and I have used their expertise ever since for various issues for my whole family.
On a personal note, I was also born with a dairy intolerance and acquired a gluten and E number intolerance. I was diagnosed with Discus Hernia in 2011 and with Fibromyalgia in 2014.  My health was in a serious crisis, as I lived with permanent pain, was exhausted and irritable, to say the least. The conventional medicine offered pain killers for both conditions, which I refused. A compromise was hydrotherapy, which eased my pain a bit.
What I have tried as an alternative was Polarity therapy, which felt like the only real pain releaf that lasted more than the length of a swim in the pool. When that wasn't helping as much, I was recommended a Chiropractor with a lifetime of experience. He combines Chiropractice with Theragem  (crystal lamps).
That felt like heaven and really got me interested in the power of crystals.
At the same time, I got invited to attend a Healing group, where we would meet regularly (once a month). Topics always were alternative healing methods and the impact on us and others.
It was during these meetings that I noticed (and everyone else witnessed) my reaction to crystals and various other objects that contained a certain energy. I would have a severe reaction on occasion, while others didn't feel a thing.  That made me research into the nature of energy and crystals, which became a hobby. My hobby turned into passion and I decided to sign up to certified courses in Energy healing, Crystal healing and Theragem crystal healing.
Consequently, I have opened a healing practice at home in January 2019.
In September 2019, I have relocated to The Body Suite in Chichester. I joined the loving community there and have immediately felt at home.
My therapy has been growing and changing and I can now offer Elemental healing. You can find me there 9am-4pm Monday to Friday.